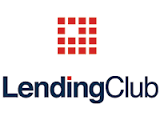 In order to diversify and find better ways to invest, I test new sites and methods. Over the years I tried WealthFront and Betterment (Robo Advisors for securities) and lending sites Funding Circle and LendingClub. Today I will discuss my LendingClub experience.
In January of 2016 I made a $15,000 investment into Lending Club loans to test the automated selection site LendingRobot. LendingRobot uses algorithms to select the best loans for your portfolio of $25 loans. They charge a yearly fee of .45% and promise higher returns than picking your own loans. I selected a middle of the road rate of return of about 8.5%. LendingRobot uses your targeted return rate to choose your specific loans.
I suspected this may not work out within 90 days. Six of the loans stopped payment after the first payment. Zilch, nada, nothing. To me that smells of pure fraud by the borrowers and poor underwriting by LendingClub. By August, I had earned about $1100 dollars in interest, but LendingClub had written off $530 in loans. My adjusted Net Annualized return as of today per LendingClub is 5.59%. I am not confident in this calculation.
Based on the poor performance and bad press LendingClub received, I cancelled my subscription to LendingRobot and stopped buying new notes at LendingClub on August 15. As of October 19 I have received $1349 in interest. They have charged off $225, $25 is in default, $625 is 31-120 days late, $100 is 16 to 30 days late and $200 is in the grace period. I have $14,780 of outstanding principle and have withdrawn $1,283. Lending club says my account total after adjustments is now $14,246. That plus the $1283 that I have withdrawn means that I have made $529 in nine months on my $15,000 investment.
If your curious as to what grade of notes Lending Robot selected, here is the breakdown:
32% A
9% B
5% C
21% D
19% E
8% F
5% G
This resulted in a 15.17% blended interest rate. 78% were 36 month loans and 22% were 60 month loans
Imagine how bad my return would be in a recession? I am running for the doors and sticking to loans on real estate. I suspect that by the time my last note is paid back, I will have earned a negative interest rate. When loans go bad with hard money loans, you still have the collateral of the real estate. I prefer that security. Based on my nine-month experiment I cannot recommend either LendingRobot or LendingClub.